CBSE paper leak: Supreme Court dismisses all pleas challenging board's retest decision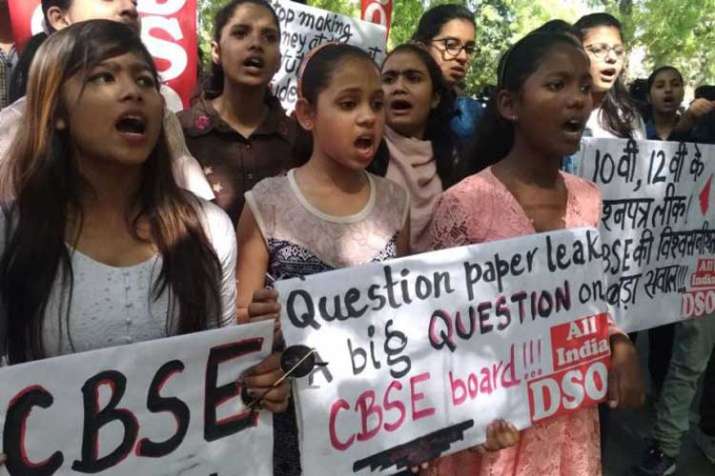 Students protest against CBSE paper leak.
The Supreme Court on Wednesday dismissed all petitions challenging the Central Board of Secondary Education's (CBSE) decision to conduct a re-examination of the class 12 Economics paper after an alleged leak. The top court said that it won't interfere with any of the board's decision on a re-exam.
A bench of Justices SA Bobde and L Nageswara Rao asked the students who had challenged the CBSE's decision to appear in the examination if conducted.
Besides challenging the CBSE's decision, the petitioners also wanted a CBI probe into the alleged paper leak, saying several incidents were reported from various states and Delhi Police was not competent to hold the nation-wide probe.
Seeking an independent probe into the leak, one of the petitioners, 15-year-old Rohan Mathew, also sought a direction to the CBSE to declare the results on the basis of the examinations already conducted.
The board, on March 30, had announced that it would re-conduct the examination for class 12 Economics subject throughout the country on April 25. However, amid the ongoing turmoil over the paper leaks, the board on Tuesday decided not to hold a re-examination for the class 10 Maths exam. Earlier, the board had said that a fresh test for class 10 Mathematics paper may be held only in Delhi-NCR and Haryana.
"Consequent to the preliminary evaluation of the impact of reportedly leaked CBSE class 10 Maths paper and keeping in mind the paramount interest of students, CBSE has decided not to conduct re-examination even in the states of Delhi NCR and Haryana," said Anil Swarup, Secretary, HRD Ministry.
Earlier, another plea was filed in the apex court by Shakarpur resident Reepak Kansal, challenging the decision of the CBSE to cancel and re-conduct examinations over suspicion of alleged question paper leak.
"It is to be noted that this year, 16,38,428 students are appearing for the Class 10 and 11,86,306 students for Class 12 in the CBSE examinations.
"And therefore, to penalise the student community for an incident which is under investigation and without completion of that investigation/enquiry and issuing a notice on March 28, 2018 (for re-exams), affects the fundamental rights of students which is arbitrary, illegal and unconstitutional," the plea has said.
The examinations for the class 10 Mathematics and class 12 Economic papers were held on March 28 and March 26 respectively.